To celebrate my birthday this week, my husband and I hit Graydon Carter's newly relaunched Monkey Bar at 60 East 54th Street.  We were greated by a surprisingly friendly bouncer, who opened the door to the bar I remembered well.  It was a favorite hang out of ours ten years ago when we were first dating…a convenient midtown location just blocks from both of our offices. The bar was packed and the low lighting enhanced the mystery from the moment we entered.  We walked down the chic zebra skin covered stairs and onto the original dark wood flooring to the main dining room, where red leather seating and mirrored art deco pillars divide the upper and lower areas.  Graydon has classic old-school brass sconces with simple beige crackled shades on the walls and whimsical monkey lamps and accessories throughout. The new Ed Sorel mural was fascinating to look at and made us feel as though we had stepped back into the era of the Stork Club with images of Fred Astaire and Duke Ellington dancing across the walls.
The setting was perfect (Allison Luyten Aston who is married to one of my husband's fraternity brothers, Jay, was hosting a dinner for Aerin Lauder Zinterhofer and others over to our right). I had the Foie Gras and Lobster Thermidor and  had no complaints.  The food was actually delicious and our waiter was quite the charmer.  In the spirit of the Monkey Bar, I have pulled together some of my favorite monkey-inspired items from
The Well Appointed House
Speaking of Graydon Carter and the Monkey Bar, I come to my good friend Duff McDonald….Duff McDonald is a New York-based journalist. A contributing editor at New York magazine, he has also written for Vanity Fair, Conde Nast Portfolio, GQ, WIRED, Time, and others.  In 2004, he was the recipient of two Canadian National Magazine Awards—Best Business Story (gold) and Best Investigative Reporting (silver)—for Conrad's Fall in National Post Business.  I am pleased to report that his latest book,
Last Man Standing, his biography of Jamie Dimon, chairman and CEO of JPMorgan Chase, will be published by Simon & Schuster on October 6, 2009.
I hear that a swanky book party at the Canadian Consulate in New York City is planned for early October to celebrate the book's launch and Duff is already receiving early buzz.  Newsweek has published an excerpt of the book – you can read it here,
The Banker Who Saved Wall Street
: How JPMorgan Chase CEO Jamie Dimon bailed out Bear Stearns and the federal government – and lived to turn a profit….and in Fortune you can read
Jamie Dimon vs. Sandy Weill
.  Here Duff sheds new light on one of the most interesting business partnerships in modern American capitalism.  Here is Duff: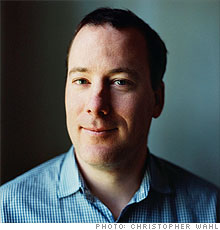 He lives in Bronxville with his stylish wife, Caroline, who works at the New York Times for the Style Magazine, and their daughter Marguerite.  You can pre-order the book
here
for $18.48 through Amazon.com.  Maybe Caroline will let us have a peek into their home – she has some beautiful Herend china and blue and white accessories and fabrics that I really love.  Stay tuned.