It is hard to believe that 2017 is officially here!  Assuming that your tree, wreaths and garlands are down and holiday ornaments safely packed back in their boxes to await their debut once again in the blink of an eye, it's time to think about keeping your home on trend for the upcoming year.  Sometimes splurging on just a few new things for the home is all it takes to bring a sense of "newness" and what better time to do this than now?
Here are a few trends we see for the upcoming year:
GREEN
The Pantone Color of the Year for 2017 is "Greenery".  Here we have selected some of our favorite items in this hue of green – see if something catches your eye!  It would be fun to bring in the "color of the year", even if it's in just one signature piece: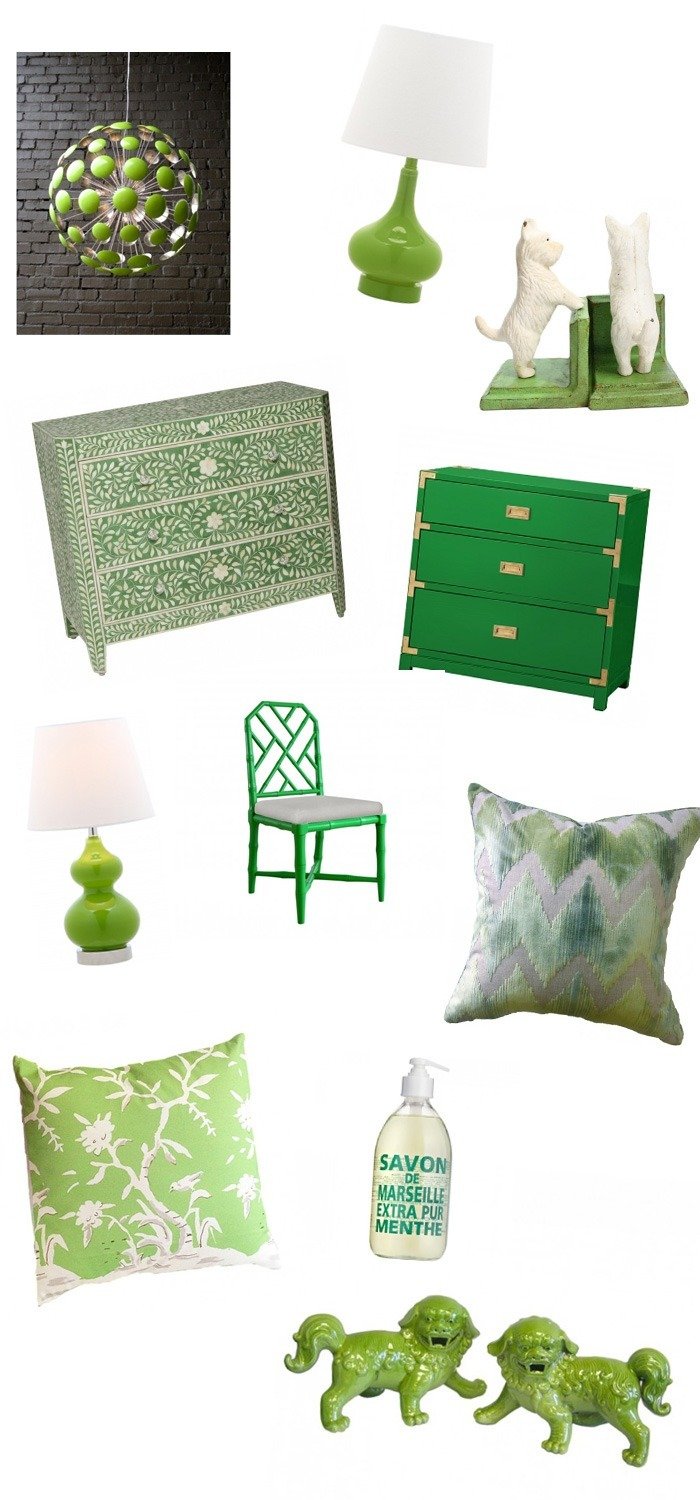 INSECTS & BIRDS
We love seeing the beauty of nature brought into the home.  Bees and butterflies are two of our favorites.  The butterfly is known to represent endurance, life and hope — and in some cultures, it represents resurrection.  Any way you look at it, the butterfly inspires happiness!  These little miracles of transformation are literally and figuratively uplifting to behold!  The bee often symbolizes diligence.  Paired with beautiful birds, these colorful creatures can bring out the best in a room!
Grand Bejeweled Purple Butterfly with Gold Leaf Frame $1097.50 | Butterfly on Pink Linen Pillow $186 | Bees Knees Embroidered Cocktail Napkins $64 | White Flower on Aqua Decoupage Wastebasket and Tissue Box Set $220 | Paule Marrot Butterfly Reproduction I $2190 | Paule Marrot Pink Butterfly Reproduction II $2190 | Butterfly Drum Pendant $285
NATURAL FIBERS
Lacquer and lucite have been big trends in home decor for a number of years now, and while we love all things shiny, it's nice to bring in some natural fibers to a room for balance.  We love rattan, papyrus and jute. Here are some of our current favorites:
ABSTRACT PATTERNS
Brushstrokes and abstract patterns continue to be popular in textiles and on lamps as we head into 2017.  Here are some fun ones:
SCOUTING LOCAL ARTISTS
It is fun to peruse the internet for framed wall art, but it's even more fun to scout your local area for an emerging artist and buy a unique piece for a key area of your home.  Think of it as a conversation piece and what will differentiate your house from that of your neighbors.  Here is one artist that I work with in Greenwich, and her work is one-of-a-kind. I like her abstract paintings, below I have posted two samples.  I often find undiscovered artists on Instagram, such as Teil Duncan Art (she is pictured below, check out her art and let us know what you think):
Stay tuned for more, there is so much happening in home decor and much to look forward to this year!  Happy New Year!